The baby owl liniment is used at each diaper change to clean baby.
no preparation and no rinsing.
no more soaked wipes.
no more redness and irritation.
natural, organic, made in Quebec!
Recommended for sensitive skin and irritation/Erythema: baby's skin is clean, nourished and protected!
Composition :
Organic olive oil: emollient effect (moisturizes the skin and softens it) and protective effect (it leaves a greasy film that protects baby's skin against attacks (following stools and urine).
Lime water: it has a sanitizing effect (cleans), this base fights against the acid pH of stools and urine (which causes redness and irritation).
Manual
Very simple: apply a small amount to a washable wipe or cotton pad and wipe baby dry.
No rinsing! The oil-limestone liniment is compatible with washable diapers. (see diagram)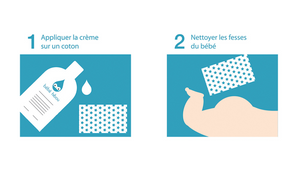 Other possible uses
Moisturizer ;
To wash the face of children;
To relieve eczema;
Helps eliminate cradle cap;
Effective makeup remover;
massage cream;
After Sun ;
Relieves cracks or chapping while breastfeeding;
Help make them disappear
pregnancy stretch marks;
Relieves burns.